Album Release "Electric Versions"
February 24, 2021
Voilá!
The fifth Wooden Peak - album "Electric Versions" is released today on all platforms and we want to celebrate it with you.
Listen to ELECTRIC VERSIONS
BANDCAMP
SPOTIFY
APPLE MUSIC
DEEZER
2 years have passed from the first idea of rethinking some pieces with minimal instrumentation and to bring the Wooden Peak Ensemble together again - arrangement, recording, production, pandemic, press work have passed and now this fine new piece of music is out there for you.
If you like what you hear, it's a huge help to us if you buy the album digitally or as an LP on Bandcamp. There will be a few copies in selected record stores, but we consciously decided not work with stores like AMAZON & Co.
The LP's will arrive next week - thanks again to all pre-orderers for your support!
Buy ELECTRIC VERSIONS on BANDCAMP
We´re truly thankful for our wonderful network that made the album and its release possible: Wencke Wollny and Antonia Hausmann (guest musicians), Frederic Stader (mastering), Nikolas Fabian Kammerer (photos), Sara Bock (artwork), Arvid Wünsch + Christoph Lehmann (videos and visuals), Daniel Spindler + Sinnbus (press relations), Kicktheflame (publishing), Markus Rom, Pit Fröhlich, Stanley Baldauf + Team TELESKOP (for everything!), magazines, blogs and radios for telling us about the music and you for listening and spreading the word.
The presale for the digital release concert from
nato Leipzig
on 28.03. is running and we hope that the evening will be the harbinger of real concerts to come. With a ticket purchase you support great venues
and festivals in difficult situations. More info via TIXFORGIGS.
https://www.tixforgigs.com/Event/36559
Enjoy the music!
Your truly Wooden Peak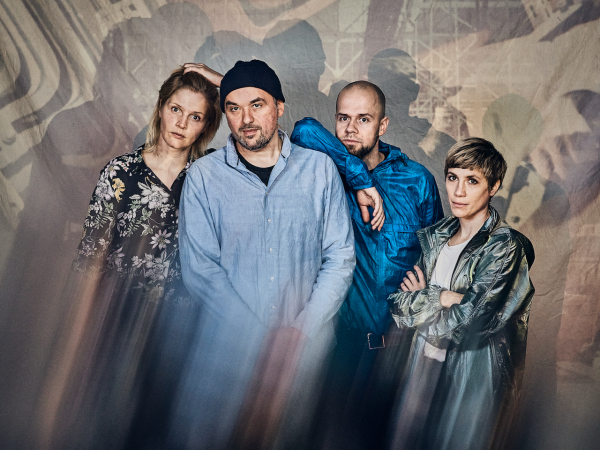 WHO BLINKS FIRST (Electric Version) - studio session
January 28, 2021
Thrilled to share the electric version of "Who Blinks First" as a studio session with the best Wencke Wolly (Bass Clarinet/Voc) and Antonia Hausmann (trombone). Video by Arvid Wuensch, Visuals by Christoph Lehmann, set photography Nikolas Fabian Kammerer, audio production made by and released on TELESKOPmusikproduktion.
The fifth Wooden Peak album "Electric Versions" will see the light of day on 26th february.
We´re happy about any support on the LP pressing of the album on bandcamp.
https://woodenpeak.bandcamp.com/album/electric-versions
Point - Video out now!
December 1, 2020
New studio session for "Point - (Electric Version)!
Very excited to show Wooden Peak in this new dress.
LP/digital Preorder is on by now!
https://woodenpeak.bandcamp.com/album/electric-versions
To make the album happen in these times, we´re gonna need some support.
If you wish and if you can, please consider pre-ordering a vinyl LP or the
digital album of "Electric Versions" on Bandcamp.
Records will be shipped as soon as they arrive in early 2021.
We´re very grateful for having you dear listeners!
And thanks to the best crew for making this a great video.
Single "Point" + new Album
November 18, 2020
"Point" is out now on all digital platforms!!
A first glance into the fifth Wooden Peak album "Electric Versions",
which will be released on 26th February 2021 via
TELESKOP
.
We have been teaming up with Wencke Wollny (bass clarinet + voice)
and Antonia Hausmann (trombone) to collect and reinvent interpretations,
replays and updates from Wooden Peak´s debut to
the last album "Yellow Walls".
It is an exhibition, a snapshot and a draft of the future all in
one. If you´d like to support our work in these times,
please consider downloading the track on
BANDCAMP
.
Very soon there will be a vinyl/digital preorder for the record as well.
APPLE MUSIC
DEEZER
Sincerly
Wooden Peak
Miss Goodman
October 14, 2019
Our third electric version is out there by today!
Happy Release, Miss Goodman. Originally written for the beloved Wooden Peak
Ensemble, now in a beautiful new dress - released on our new label division
TELESKOP
Gigposter UT Connewitz
September 13, 2019
Beautiful Gig poster for our at
UT Connewitz
Leipzig with
AG Form
and
Alex Stolze
by
Rainbow Posters
!
Don´t miss!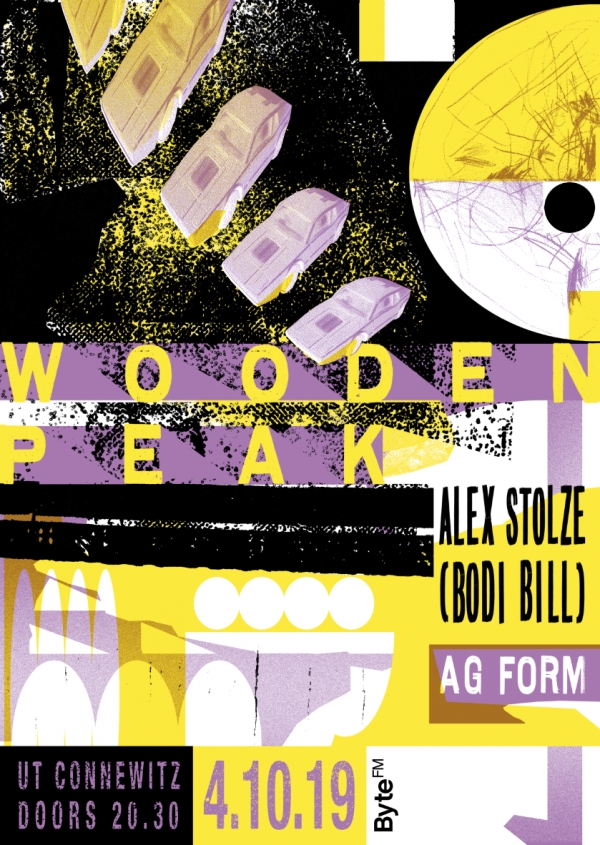 Autmn Tour
August 29, 2019
Gonna hit the road again this autumn to visit most exciting venues and meet most inspiring other acts, eg
Halma
,
Alex Stolze
and,
AG Form
!
presented by
ByteFM
Check here for more Info.
https://www.facebook.com/tours/2612499908800596/
We´ll be pleased to see you.

Happy Release, Great Farm!
May 10, 2019
Happy Release to you, Great Farm! Listen to a charming electronic rework of that 2009 classic. This is just the beginning. More Electric Versions to be dropped the next months!
!!! YELLOW WALLS OUT NOW !!!
January 18, 2019
Happy Release Day *YELLOW WALLS! Our fourth album is now out there.
A thousand thanks to everyone involved. Don´t hesitate to tell us what you think!
If you´d like to support our work, please buy a record.
Spotify:
https://spoti.fi/2RyIMNH
LP:
https://bit.ly/2SfMbOu
CD:
https://bit.ly/2rc69xf
HOORAY *YELLOW WALLS!